Fast and Loose Painting of Tree Trunks In Snow
Fast Sketching Builds Skill
You won't likely create a masterpiece, but working fast forces you to focus on the essence of a subject and to let the medium sing.  This simple exercise is based on a scene outside my studio window. Jump in and give it a try, even if it takes longer than two minutes!
Quick Sketching
The real purpose of working fast is to build skill in observing and distilling your subject to it's essence.  It also helps you build skill and confidence in your brushwork.   Maybe the most important thing it does is to help you build confidence in the fluidity and freedom of the watercolor medium. This quick painting is timed to two minutes – but if it takes you a bit longer, or you want to take a bit longer, feel free.
Note On The Drawing Layout
The downloadable drawing layouts for all lessons includes dark lines to make it easier to trace.  It's best to use light pencil lines on the drawing layout -they are easier to erase, if necessary, and they won't be so obvious when showing through a light wash.
What you'll need
Brushes – Large, Medium and Small Rounds
Colors – Cobalt Blue, Cerulean Blue, Quinacridone Burnt Scarlet, Burnt Sienna
Watercolor paper – preferably Arches 140lb Cold Press cut to about 7″ x 11″ or so
DOWNLOADS : PHOTO REFEERENCE, DRAWING LAYOUT AND FINISHED PAINTING IMAGE
[/mepr-show]
This is a Premium Learning Library Lesson.  Access The Entire Library  With a Premium Membership – Cancel or Pause  at any time.  
More Premium Member Info Here.
 Already a Premium Member? Login Below
Just browsing? Check out these FREE lessons.
Winter Tree Sketch To Finished Painting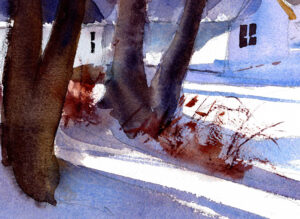 The quick sketch exercise, above, can be turned into a gem of a painting by adding objects, environment along with color and value to show light and form.
This lesson shows how to do that and provides ideas and considerations for finishing some of those incomplete works you have languishing in drawers and portfolios.