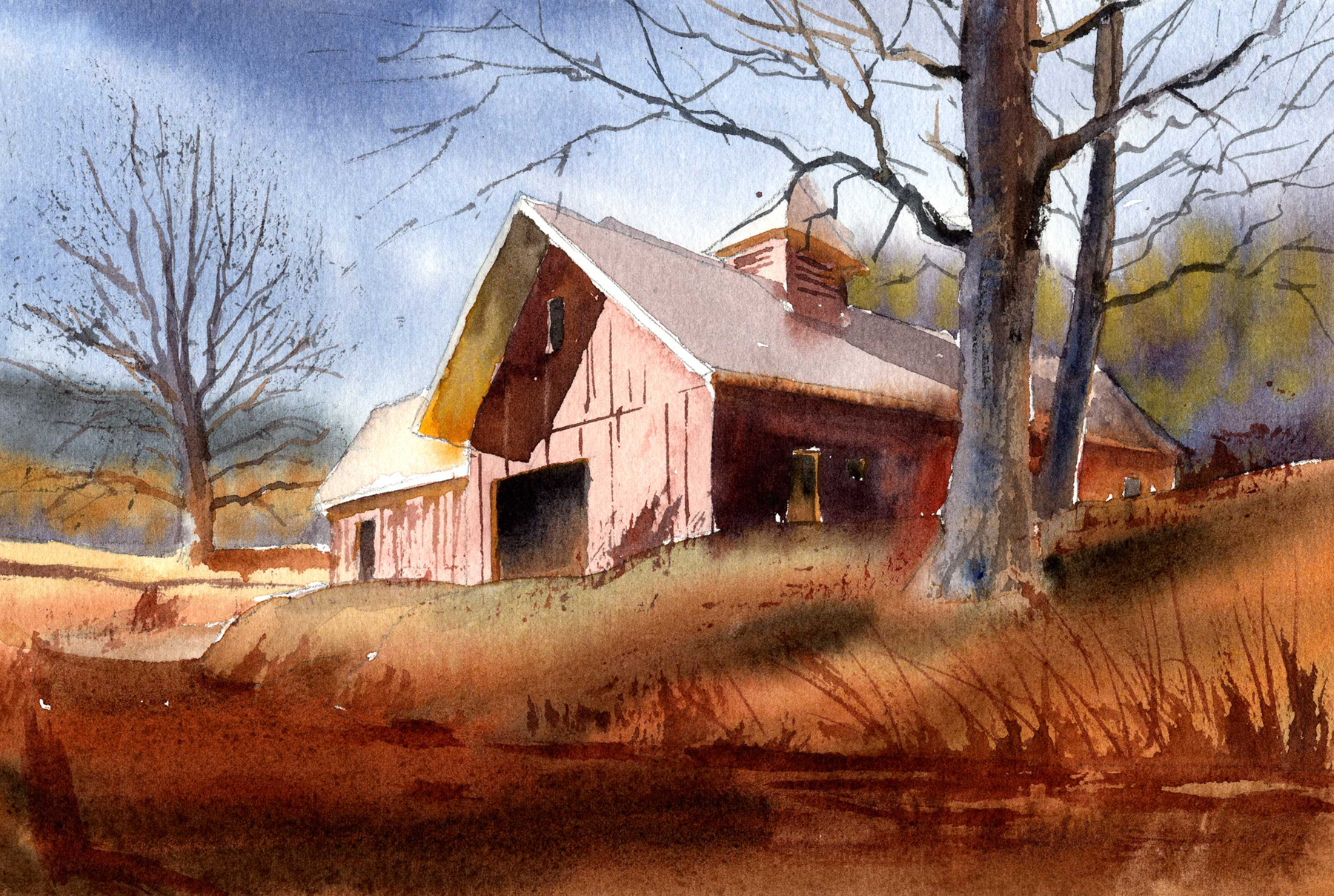 WHAT YOU'LL LEARN
How to effectively use a Primary Triad Color Scheme for a full color range
Let the Value Composition form the structure of the painting
Create light even in darker value areas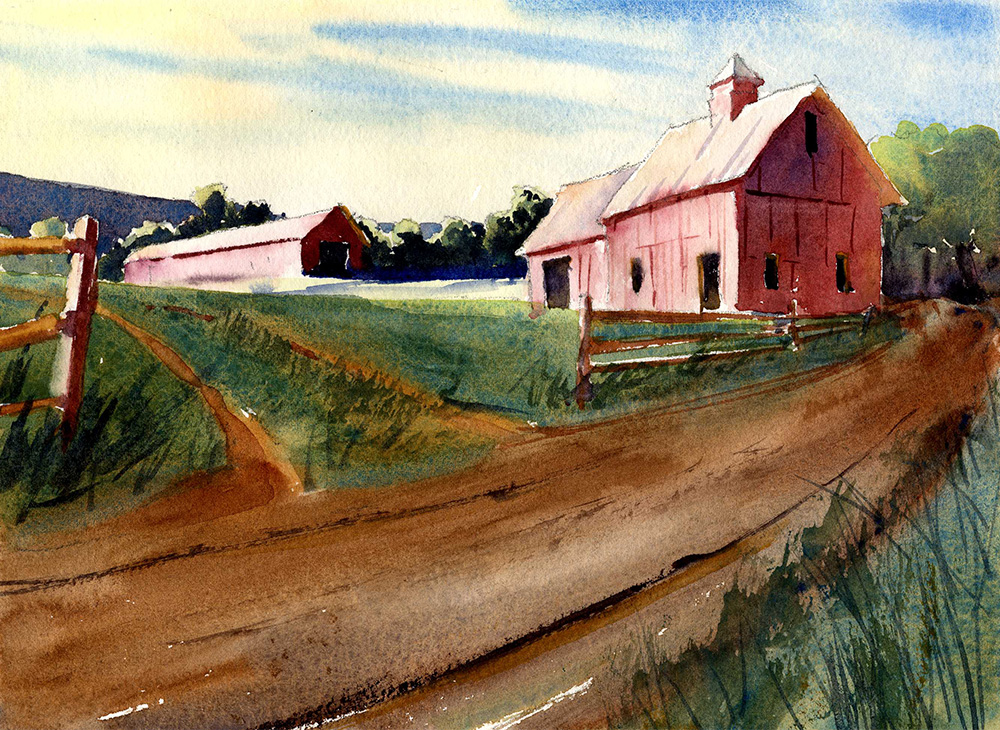 WHAT YOU'LL LEARN
The idea of painting as a process that includes studies and explorations before starting the painting
Using basic composition along with linear perspective to create a dynamic picture plane
Planning a simple, abstract Value Composition Sketch
Creating Color Studies to explore color schemes and light effects
Creating the finished painting based on decisions made with studies and explorations
THIS IS AN INTEGRATED LESSON THAT CONSCIOUSLY USES LINEAR PERSPECTIVE IN THE LAYOUT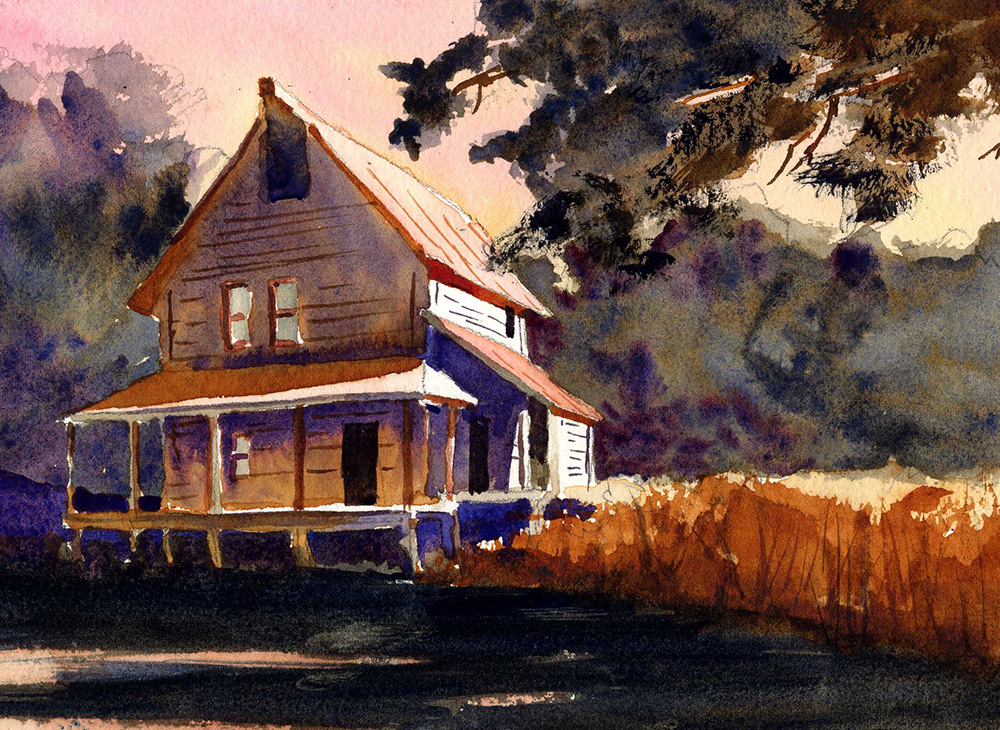 WHAT YOU'LL LEARN
How to create a Value Composition for solid structure and to represent light and form
Discover how a 'limited' Primary Color Scheme is not limited at all
How to make light your subject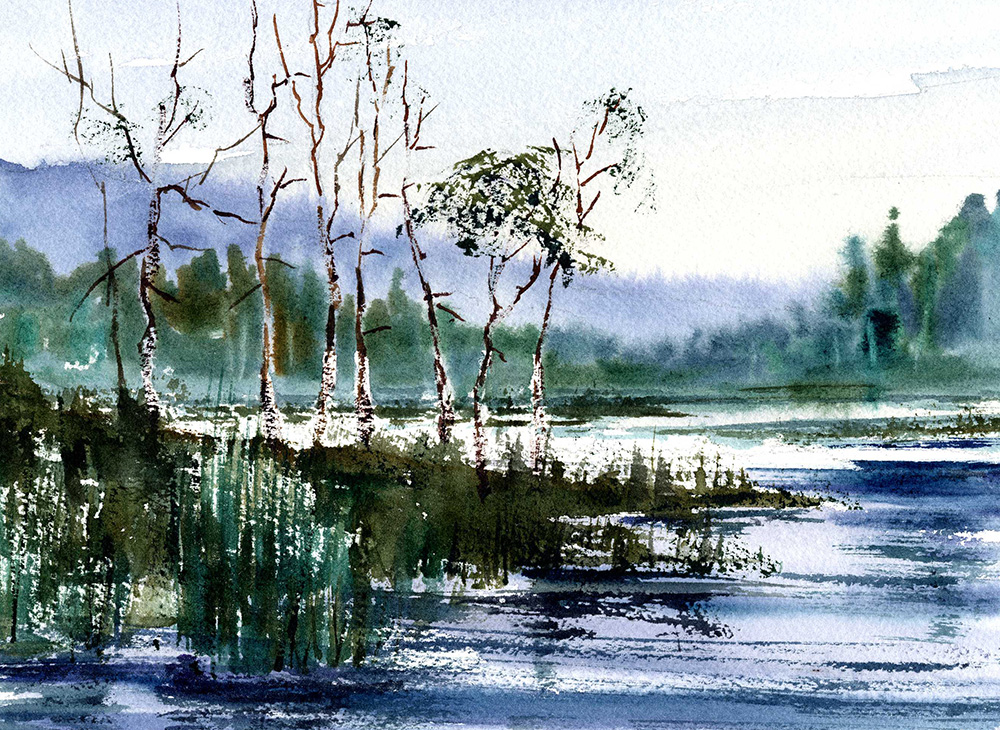 WHAT YOU'LL LEARN
Using the unusual Secondary Triad Color Scheme
Creating atmosphere and Aerial Perspective
Using a simple Value Composition to enhance space, distance and Aerial Perspective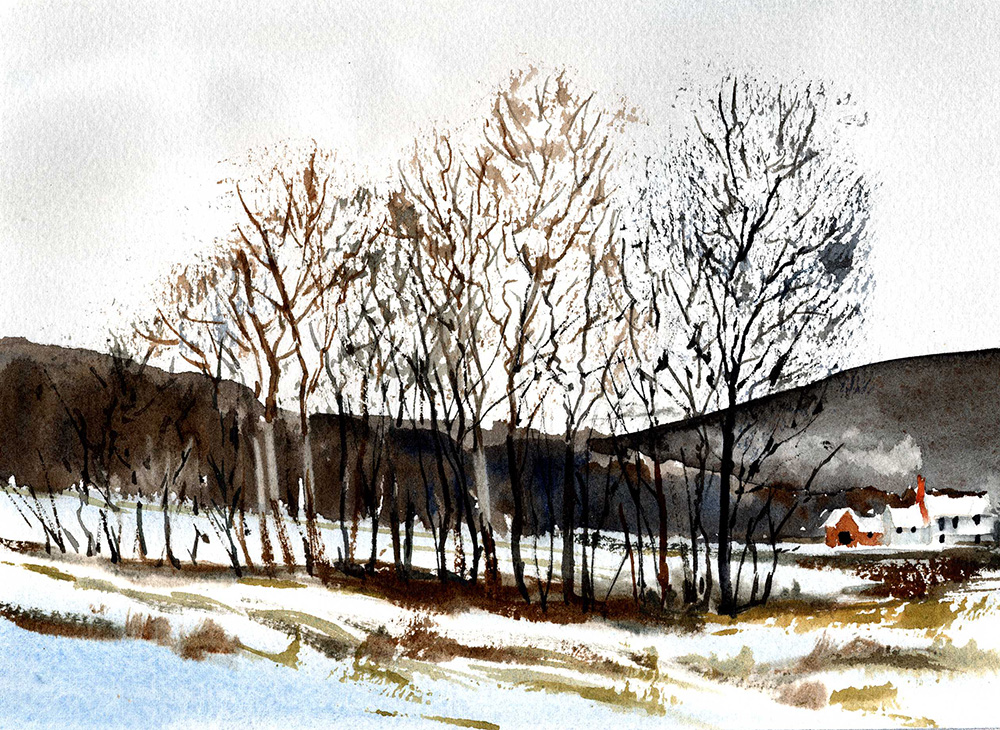 WHAT YOU'LL LEARN
How to create a simple, strong two value composition
 Practice mixing useful neutral color mixtures to keep the scene lively even though it is a gray winter day
Use a value composition along with lively neutrals to create a dynamic scene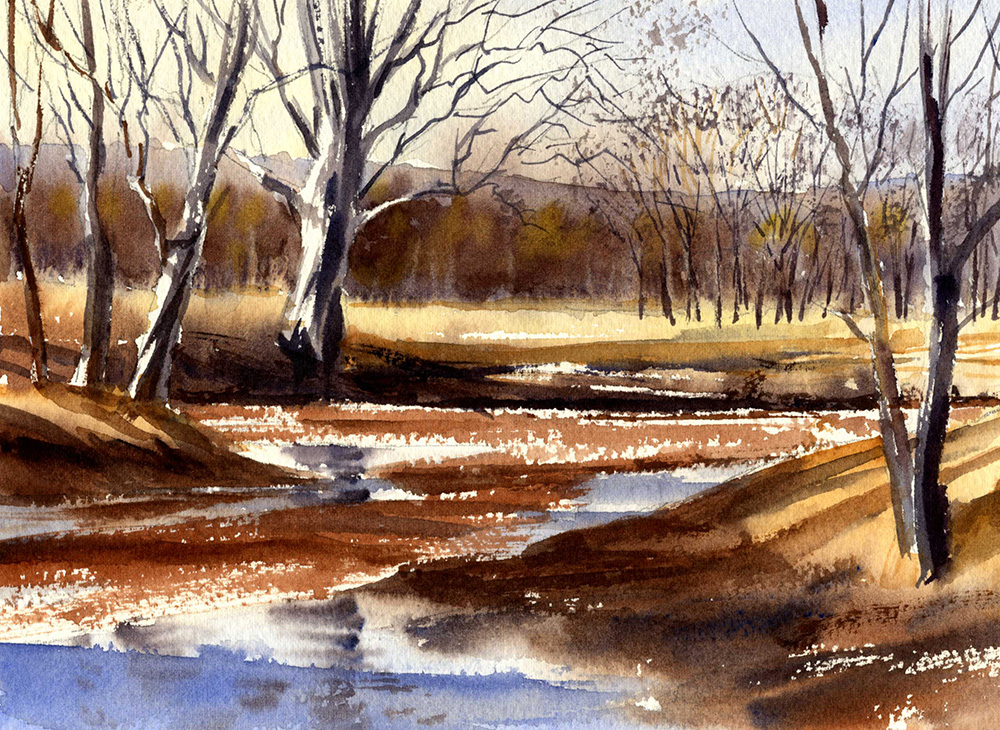 WHAT YOU'LL LEARN
Learn how to make the best of a limited color palette
Learn to use the surface of Rough paper for sparkle and texture
Learn to make light the main subject
AN EASIER LESSON APPROACHABLE BY EVERYONE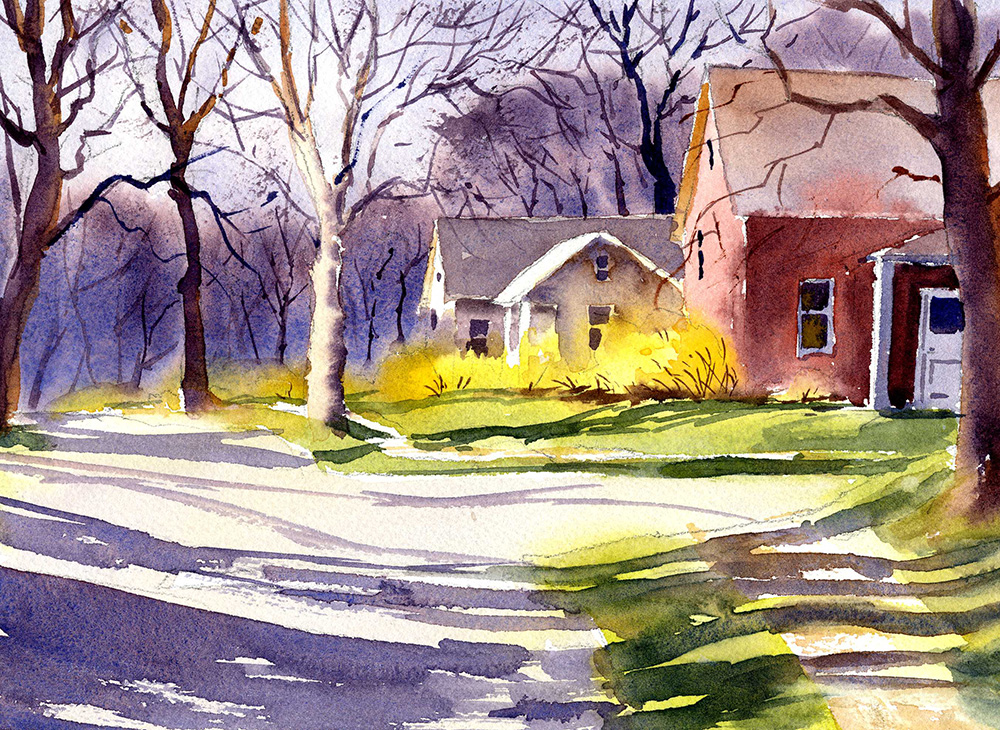 WHAT YOU'LL LEARN
How to use a simple Value Composition to bring focus to the main subject.
Using a consciously chosen color scheme that works with the value composition to bring focus and to create the sense of warm spring light.
Use a combination of basic techniques and methods for variety and visual richness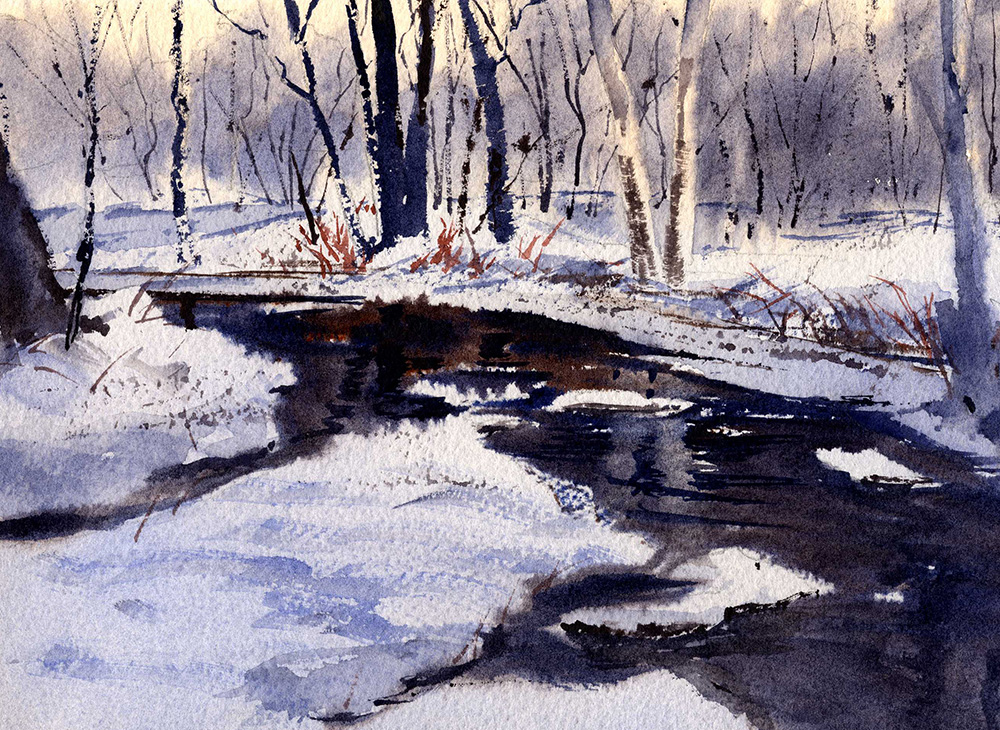 WHAT YOU'LL LEARN
Learn to create a value composition that interlocks planes of space and creates a strong center of attention
Learn how to make the best of the texture of rough paper
Learn to let the value composition guide the placement of hue and value
WORK WITH A DIRECT APPROACH ON ROUGH PAPER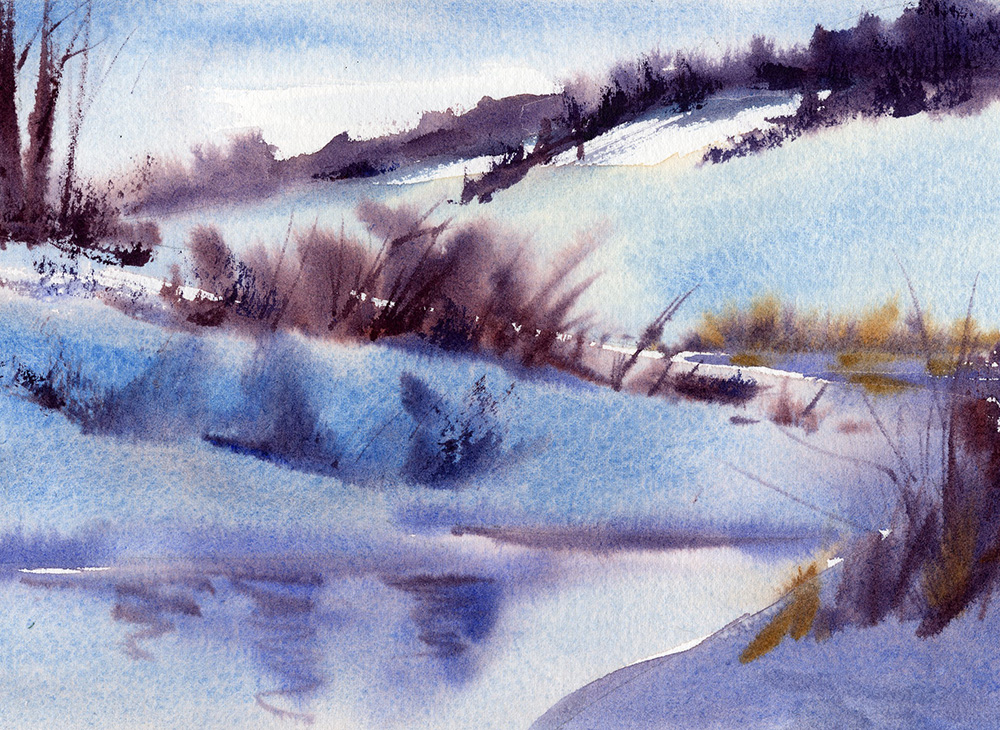 WHAT YOU'LL LEARN
Learn how to make the best of a limited color palette
Learn to use the surface of Rough paper for sparkle and texture
Learn to make light the main subject
THIS LESSON MAKES GREAT USE OF BASIC WATERCOLOR TECHNIQUES ON ROUGH PAPER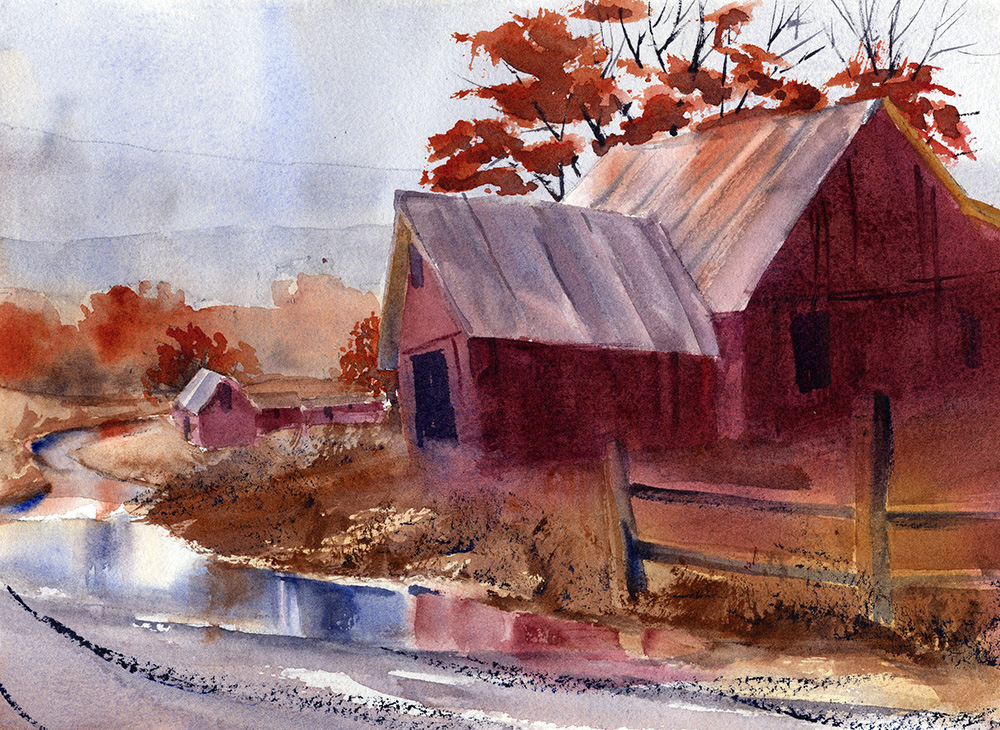 WHAT YOU'LL LEARN
How to create a simple Value Composition that works especially well for Aerial Perspective effects
Using the fluid character of watercolor to capture the effect of Aerial Perspective
How to easily capture reflections on puddles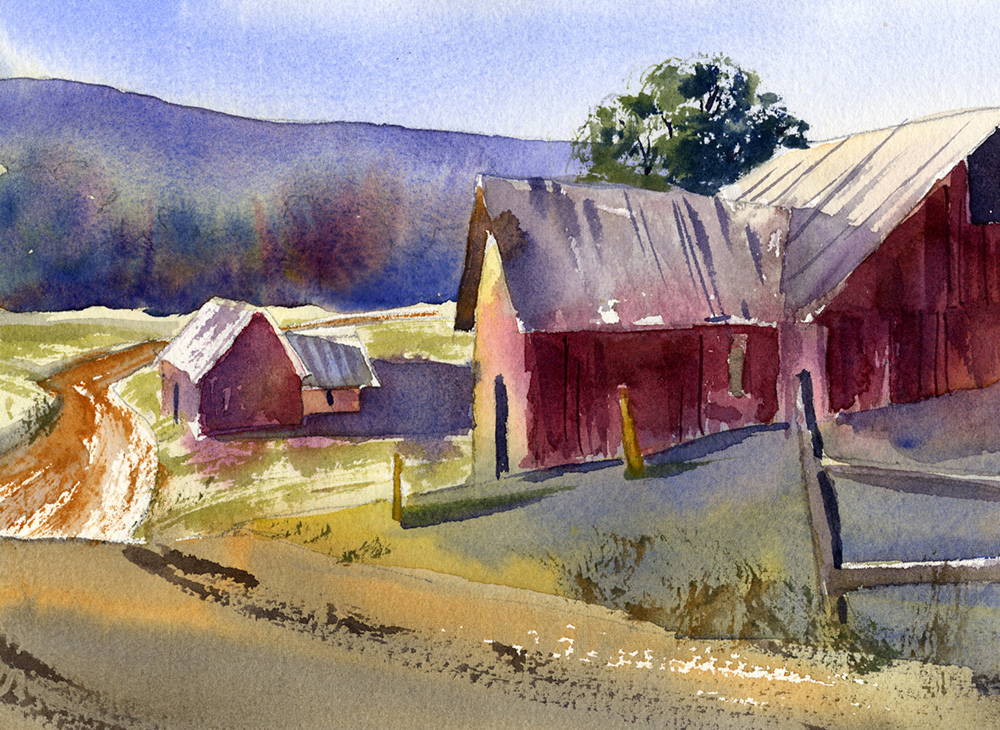 WHAT YOU'LL LEARN
The benefit of Composition studies
Using basic techniques to create soft and rough textures
How to get a surprising range of color from a Limited Primary Palette
How to capture Light with Color and Value contrasts
THIS IS AN INTEGRATED LESSON THAT WITH A FOCUS ON VALUE COMPOSTION AND COLOR STUDIES
WHAT YOU'LL LEARN
Use a Value Composition to guide placement of light, mid and dark values
Creating soft texture with the basic wet-in-wet technique.
How to establish the overall value composition with large washes early in the painting.
THIS LESSON IS AN EASY INTRODUCTION TO VALUE AND COLOR VALUE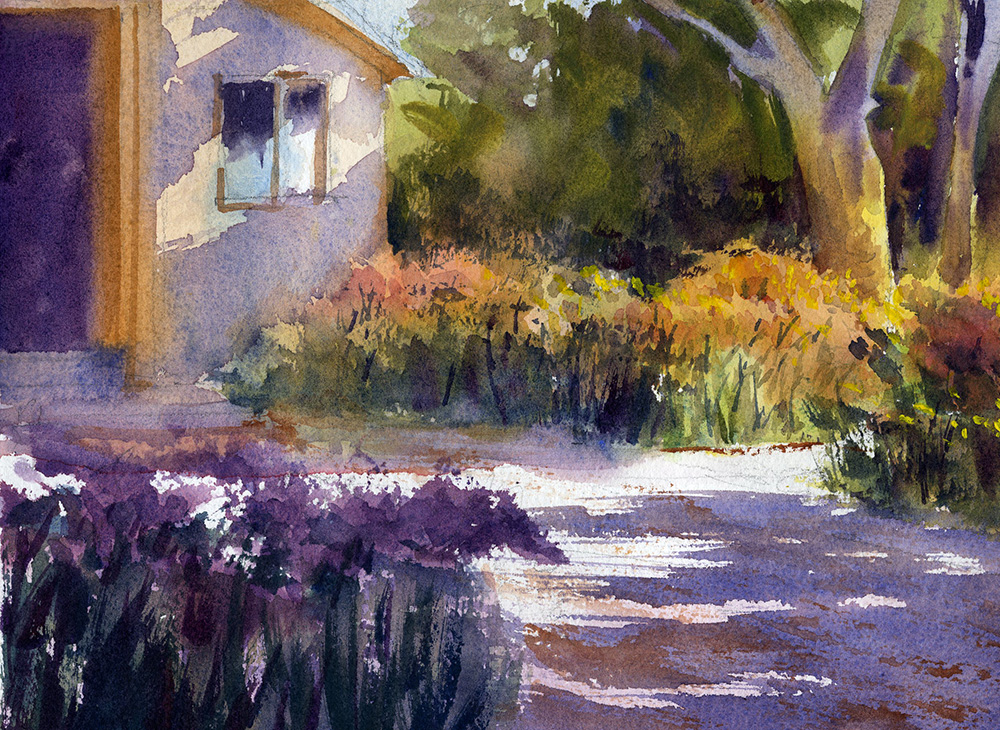 WHAT YOU'LL LEARN
How to push and combine basic watercolor techniques for a sophisticated look
To use texture to create the illusion of detail
Using Value and Temperature contrasts to create light
THIS IS A MORE CHALLENGING LESSON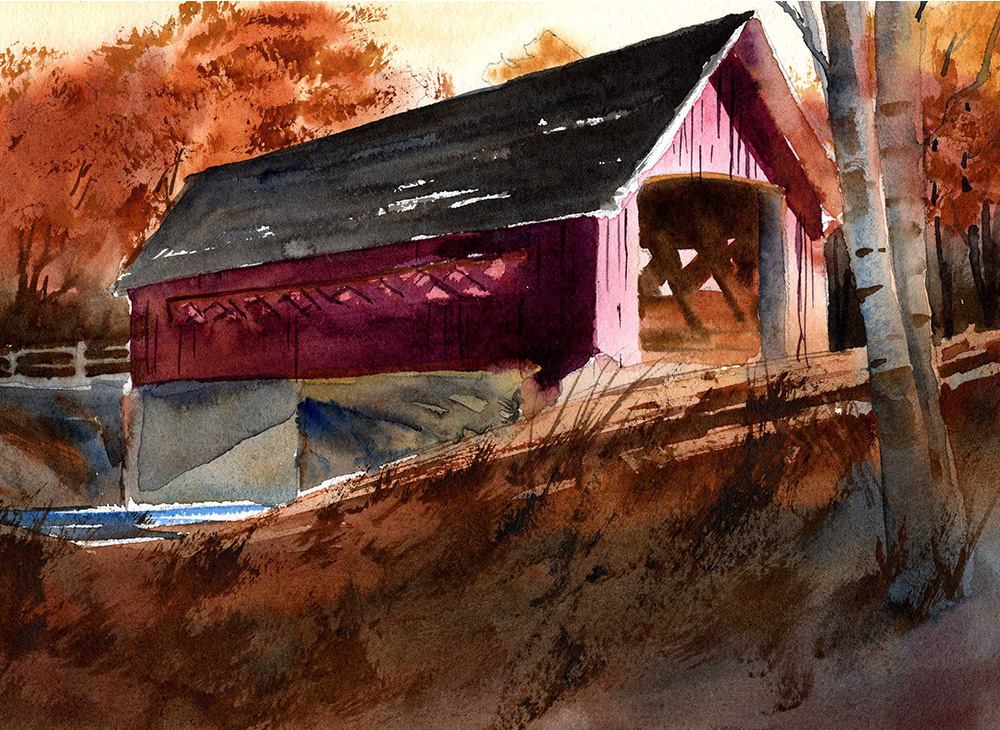 WHAT YOU'LL LEARN
Learn to create a simple, strong two-dimensional structure for the painting while supporting the idea of morning light slanting in from the right.
Learn to create Color Studies that help explore different color and value possibilities for the scene.
Learn to maintain the composed values in the painting. Don't underestimate the difficulty in this!
THIS IS AN INTEGRATED LESSON WITH PRACTICE IN VALUE COMPOSITION AND COLOR STUDIES
WHAT YOU'LL LEARN
The Power of simplicity
The easiest Value Composition
Converting Value to Color
AN EASIER LESSON APPROACHABLE BY EVERYONE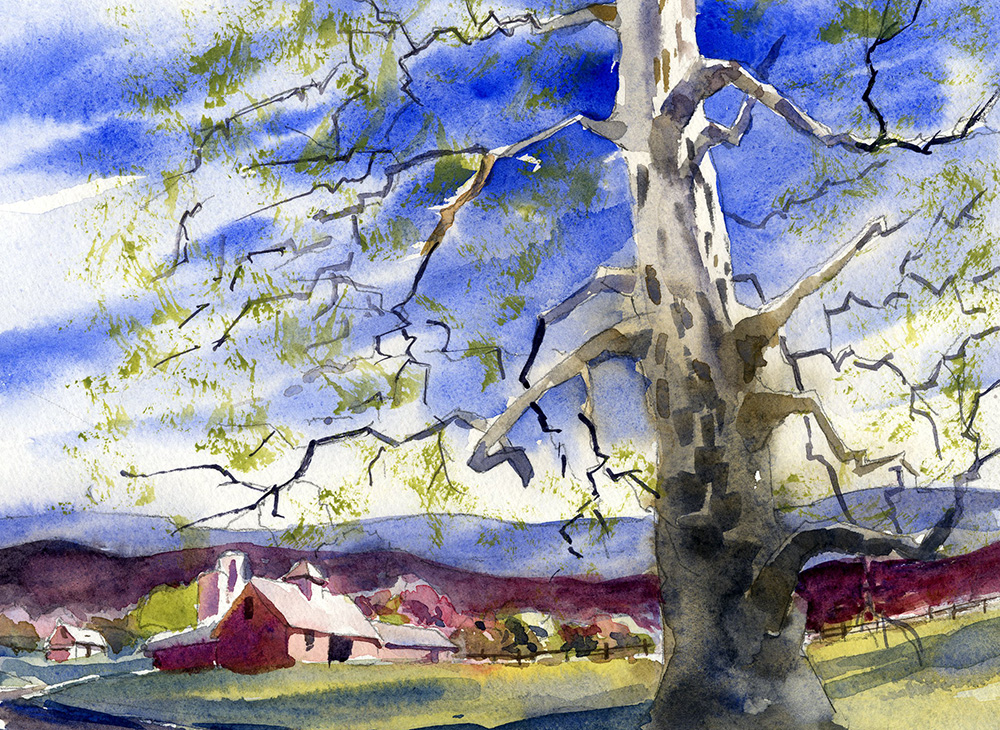 WHAT YOU'LL LEARN
How to paint the unique look of the Sycamore tree
To create the look of early spring with the right color combinations
Using a precise drawing when needed
THIS IS AN EASY LESSON FOR EVERYONE
WHAT YOU'LL LEARN
Using a simple Value Composition for structure and light
Use a simple limited color palette that works well for any winter scene
How to create light and drama with value and temperature contrasts
WHAT YOU'LL LEARN
Soft texture – to depict the soft look of a misty day
Rough brush – using the side of the brush with a light touch; this is especially effective for creating rough texture for weeds, grasses and rough patches of earth
Gradation – simple gradual changes in color or value work well in skies and water; use them to createthe reflective surface of a rain puddle
Quick brush strokes – marks that are easy and simple but create effective reflections
THIS IS AN EASY LESSON FOR LEARNING TO PAINT PUDDLES
Return To Main Lesson Library Page